Tadi masa duduk-duduk lepak dengan my mom terbukak la kisah pasal satu pasangan sehati berdansa ni. Mereka sudah sah bercerai! Then , aku tanyalah siapa? Alaa..Sein and Nana. LoL. Really? Ye ke? Macam tak percaya. Seingat aku dorang couple yang paling best. Syokkk je tengok dorang.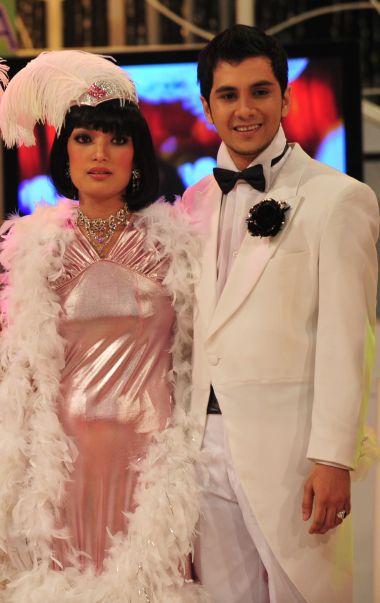 Tapi memang sah la dorang bercerai. Nak tahu lebih lanjut pasal penceraian dorang boleh klik sini , sini dan sini .
Petikan semasa perbicaraan penceraian mereka dimahkamah :
"Pasangan ini tidak dapat lagi menjalani kehidupan sebagai suami isteri dan telah wujud perbalahan yang berpanjangan. Mereka masih tinggal serumah tetapi tidak tidur bersama. Pelbagai usaha telah dijalankan tetapi tiada jalan penyelesaian," katanya
Aisyyy! Kenapalah artis ni kahwin cerai kahwin cerai. Kalau tak cerai tak sah. Cubalah hidup bahagia macam Vanida Imran and Rashidi Ishak. So sweet~ Aku rasa lah kan, rancangan sehati berdansa tu ada badi kot. Owh artis-artis sekalian, berhati-hatilah kamu kalau nak masuk rancangan ini yer. Meh aku senaraikan pasangan-pasangan yang bercerai daripada rancangan ini:
-Asheed Def Gab C and Sharifah Noor Shima
-Dira and Tengku Shafiz-Rullah
-Sabrina Ali Khan and Mohamad Shahrin
Ramai jugak kan yang sah bercerai lepas masuk rancangan ni. Rancangan ini suppose mengeratkan hubungan dorang. Ni lain pulak jadinya. Ish3. Dah nasib badan. Terima jela kan. Nak buat macam mana...

Disebabkan penceraian pasangan-pasangan ni, sebab tulah dah tak ada kot rancangan sehati berdansa. Ganti kan ngan ape tuh, ala Rancangan Mari Menari . Memang badi agaknye...